[Black square aviator sunglasses, Armani Exchange; Gray pinstriped men's suit, Vintage; Gray and silver sequined top, Vintage from India; Gray cap toe ankle boots, Nine West; Blue cobalt luggage, Gloria Vanderbilt]
Went shopping to St. Mark's and to garage sales. St. Mark's is mon favorite store in MA! Gee, but the whole store is going on vacation for an entire month. Today was the last day before they left and I got this suit!!
They always have the coolest pieces there, like my Ann Demeulemeester white blazer and Burberry trench.
Thank you, Jean for holding my suit at the store while je hurried to find mom.
Thank you, lovely Jean and Priscilla! Thanks also for having such a fun and composed coolness. Je want to be like you when je grow up! See you next month.
Mom finally appeared and was puzzled as to why I'd want a "skinny old-man's suit". Haha. Oh, mom is so funny. Well, for one, men's suits are often made to be so much nicer with the fabrics and the make. Especially 3-piece, vintage ones like the one here. It was tailor made long, long ago for a very skinny man.
Men's suits are not just one of the strongest and most stylish trends, the tomboyish girl is a classic. Yes, j'adore little dresses, they are my number-one staple. But there is something that feels just so right about masculine shapes.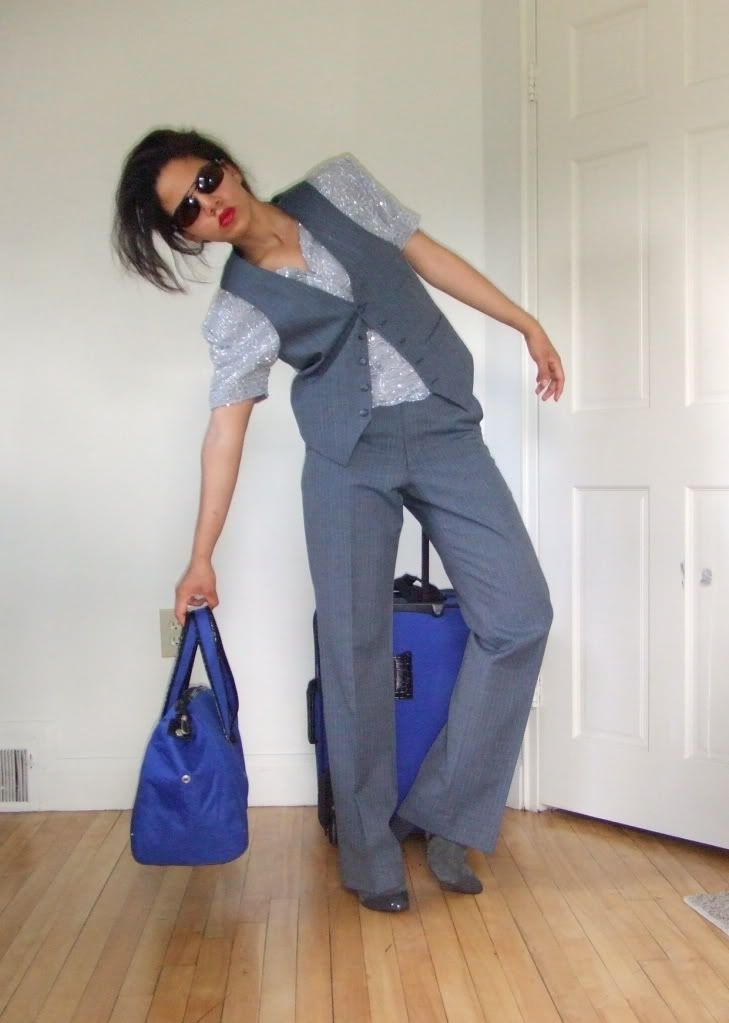 Menswear tends to be especially slimming on curvy fiugures. Here, for instance, you would not guess that my bust is a 32 DD. Yes, mon never ending stack of chocolates next to my bed may be responsible. Yes, haha, a stack of chocolates, because life is too short to not have a stack of your favorite dessert, yes? Ohh, cant wait for monday when the seafood restaurant nearby is half priced!! Yummy crab cakes.
Muah, chic people!