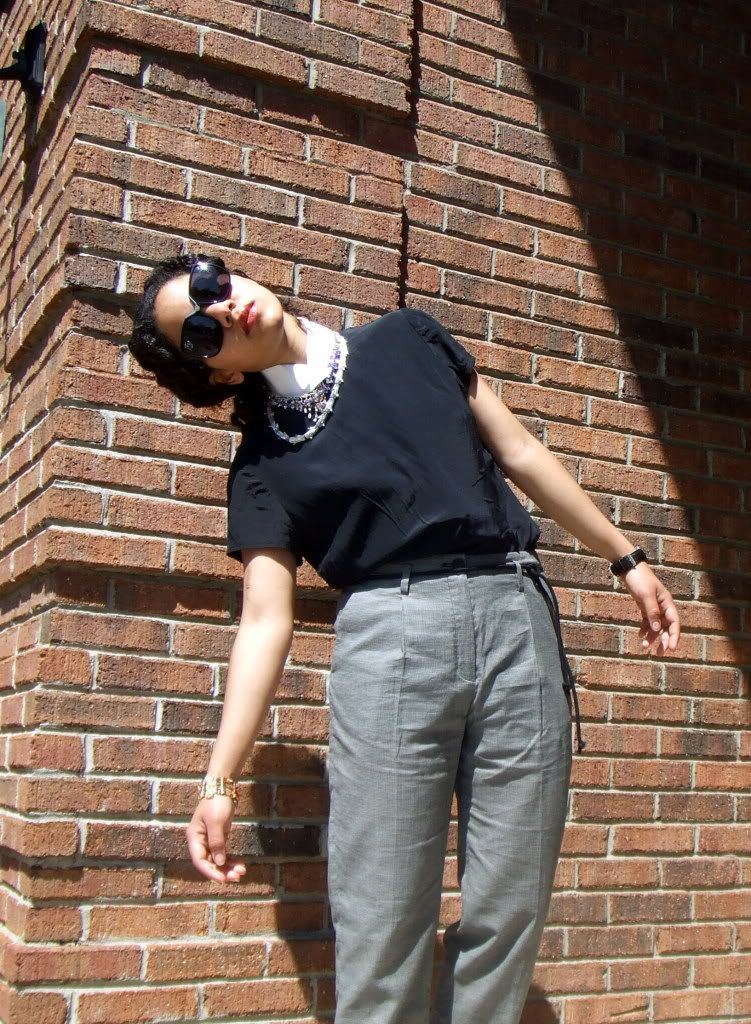 Black sunglasses with metal inset, Proenza Schouler, White tuxedo shirt collar, diy; Black silk tee, Jones NY; Blue stones necklace, gift from India; Silver branch necklace, flea market; Black t-strap wedges; Charlotte Ronson; Gray pepita "play" trousers, Acne.

Sometimes a girl can get carried away by a seductive idea. But those can be the best mistakes. A good mistake? Yes. It's the ones that don't lea to the expected negative results but take you on a different path, so that you can move on. Or at least, results are unexpected. They frustrate you. So mad and confused, they put you back on square one, and test your creativity.
There was a certain fancy men's shirt. Perfection for a new shirtdress. It would be turned into the one. It was fancied and flirted with. A peek would be taken from inside a red duffel where it lived. Je would glance, bat eyelashes and pretend je was not looking. A romance was born. "Oh, oversized tuxedo shirt, you will be made for me.", je whispered. "I am all you want and more." it would smirk with a hint of shyness.
The time came when the measurements and the pattern. It stroked my hair and said,
"take me". And so, in a matter of days, it was doubtlessly, perfectly mine. fitted, with dotted Is and crossed Ts. That's when the mistake took the wrong turn. It was put to dry without clothespins. By the time i found it, it was ripped and slashed on the parking lot down the street. What a mistake.
Well, but there is a certain Miu Miu collar that has infiltrated every magazine editorial section. Frankly, the collar is adorable, but it's also everywhere. It would be cooler do a cleaner, more minimalistic version. So here it is. The simple tux collar as the end of a romance. An excellent mistake, indeed. One that will lead to careful clothes' hanging.
The sharp lover does beg for a leather mini or some cool pants. J'aime this pair! This a holy grail of basics. Despite the unfortunate name of the Swedish label, their Play cut, and their shoes for that matter, are virtually mistake proof.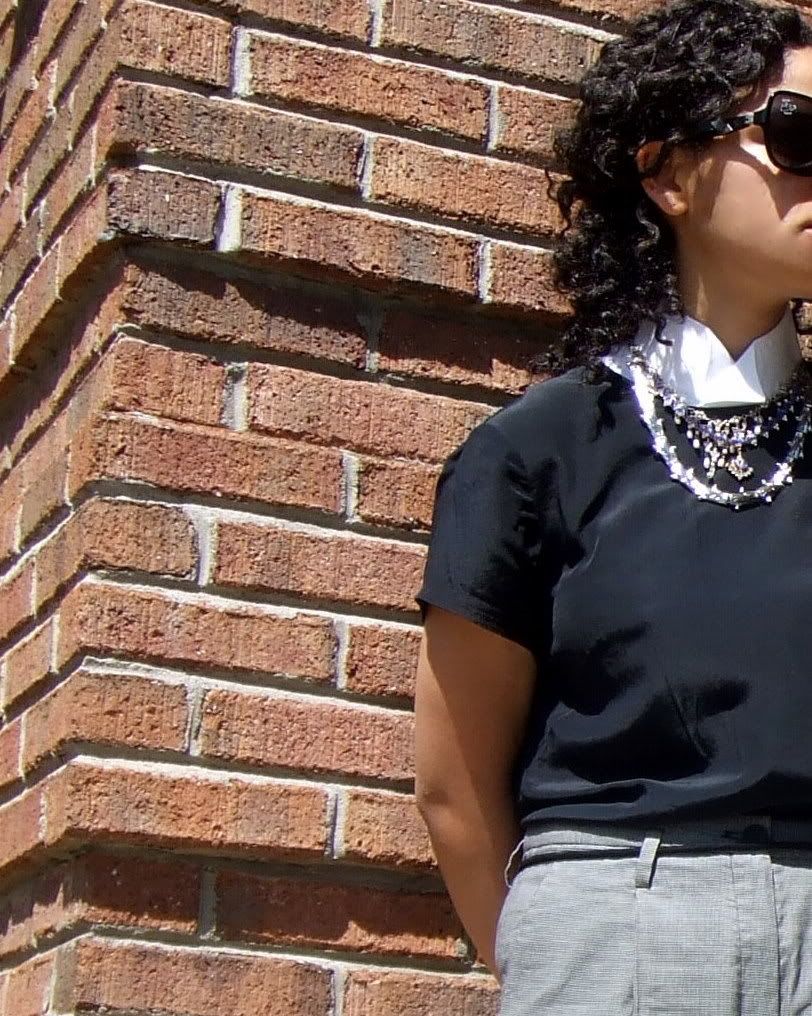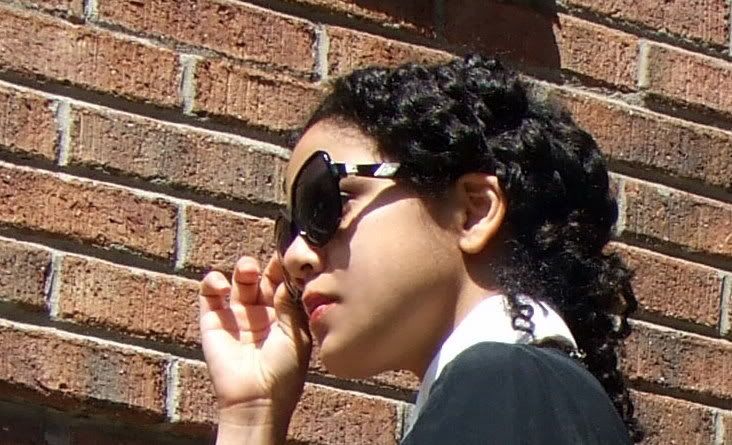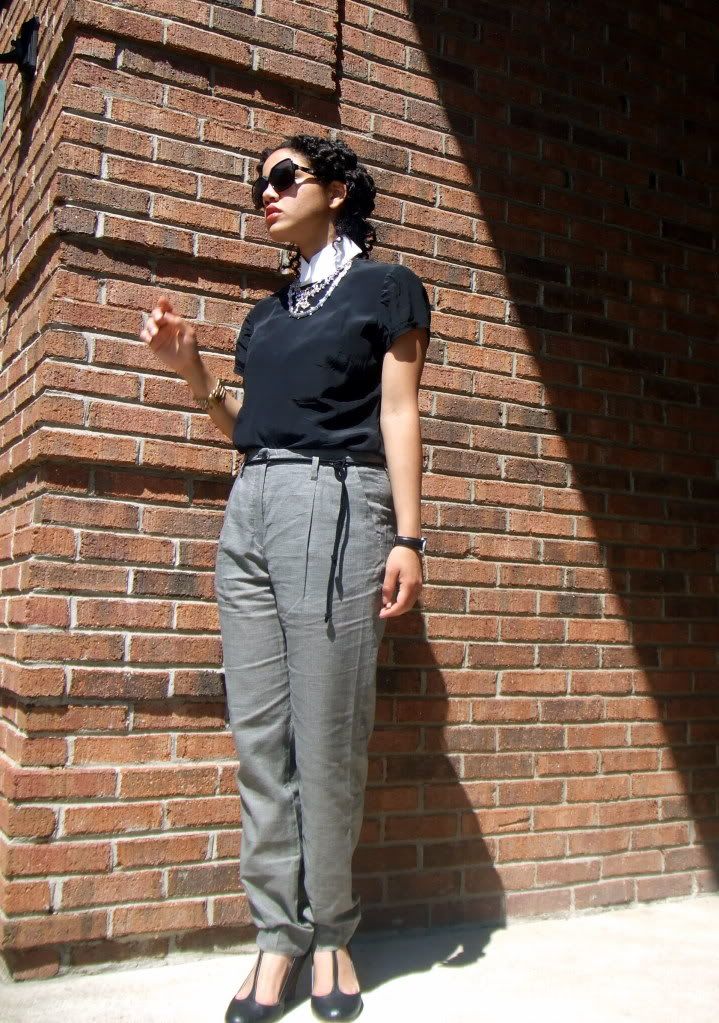 Love,
The Girl at the Atelier's Closet