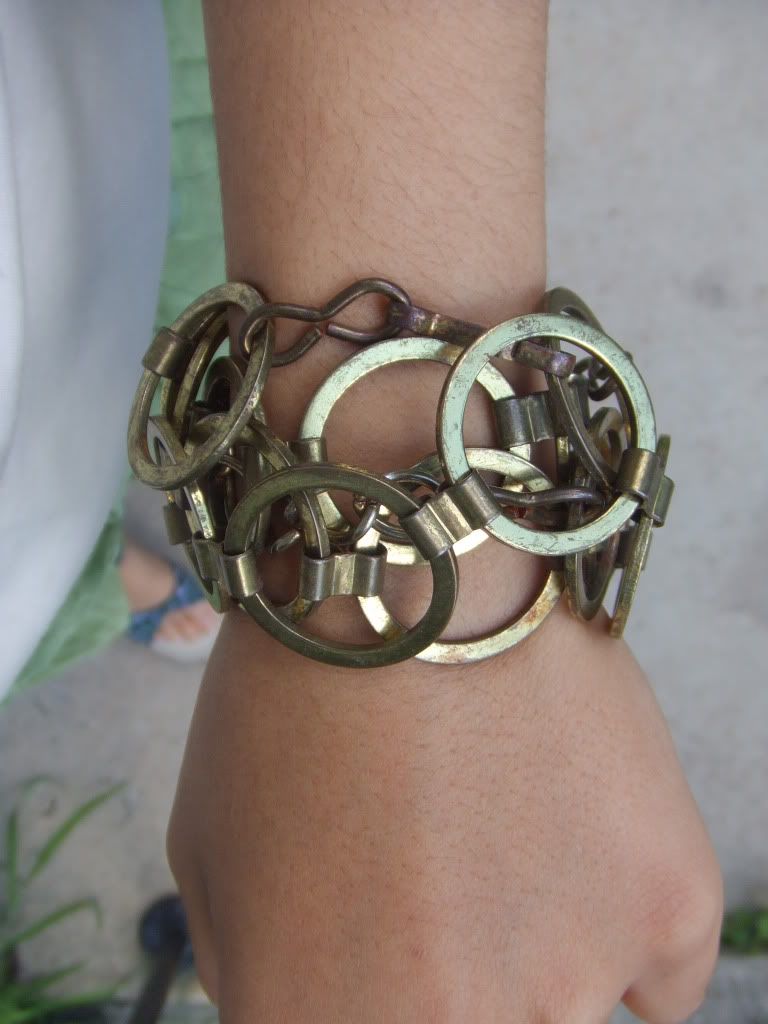 Remember the loot from the flea market last week? Yes! This is part of it. The heavy cicles bracelet is actually a belt! Yes, I'm tired of the statement earrings and necklaces lately.I've been looking for a really heavy and bold bracelet. Then, maybe a bracelet is not enough. A belt may do the trick.

[Brown men's square aviator sunglasses, Ray Ban; Beige appliquéd top, Blu Heaven; Green Harem pants, Handmade; Plaid green espadrilles, American Eagle; Akoya Pearl Necklace; Copper circles belt work as a bracelet, Flea Market]


Yes, barbecue parties galore! So much deliciousness. My sister is roasting every kind of perfectly seasoned food out there, including tofu and Italian sausages for me. Thank you big sister =). All our friends are here, especially the ones who used to be our neighbors when we lived in NY. So many families! Too bad everyone is too busy eating to want to take any pics with the food bellies. Haha.
As city dwellers, we will always be loyal to slim fitting pants. They will always be flattering and smart. But these are so far away from the norm that they are just as cool. There is such a ridiculously generous amount of sheer silk in these! Ahh. Perhaps not so basic, but so surprisingly easy to wear. They are so outlandish that most outfits just look mismatched on purpose.... These will show time and again for decades to come, long after the trend vanishes .